Yearbook News!
The Tower Tales Yearbook is a student-produced publication at Madison East High School.
It's not too late to purchase a yearbook!

Are you looking for a last minute gift for your Purgolder? If you haven't already pre-ordered a copy of the 2018-19 Tower Tales Yearbook, you can purchase one online now through May 24 at: https://www.walsworthyearbooks.com/
Click on "Buy a yearbook" and search for "Madison East" to order a book online.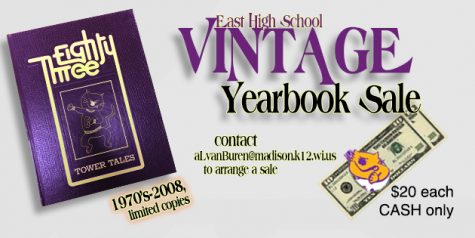 Looking to purchase a yearbook from a past school year?
We do still have *some* yearbooks available from past school years. Contact adviser [email protected] to arrange a time to purchase a past book at the school.
RECENT YEARBOOKS:
2009-2018 are available for $47 each, cash only
VINTAGE TOWER TALES:
1972, 77, 78, 80, 82-86, and 88-2009 are currently for the $20 Vintage sale price
There are NO copies of 1973, 74, 75, 76, 79, or 87 for sale, however.